BEKO Technologies delivers high-performance compressed air and gas treatment technology that has been tried and tested worldwide.  From filtration and drying to condensate processing technology and instruments for quality monitoring and verification.  Whether you have a small compressed air station or a massive bespoke system with sophisticated process technology, they are the only supplier in the market that provides the complete product range of components throughout the entire processing chain.  They only develop and produce products that comply with our own stringent quality standards and that are perfectly coordinated to work in concert to provide that extra layer of reliability and increased efficiency not found anywhere else.
Compressed air must be free of aerosols, oil and particles, and liquid water before being used in your application. During compressed air generation and distribution, contaminants are introduced to the airstream at various stages of the compressed air network. Compressed air filters, which come in various grades, along with separators, will remove these contaminants and humidity, oil, and bulk water from the compressed air stream. These filters are a critical step as these contaminants can lead to a deterioration in quality, machine failure, or even a loss of production or products that must be removed. CLEARPOINT® compressed air filters and water separators ensure the purity of your compressed air – safely and efficiently.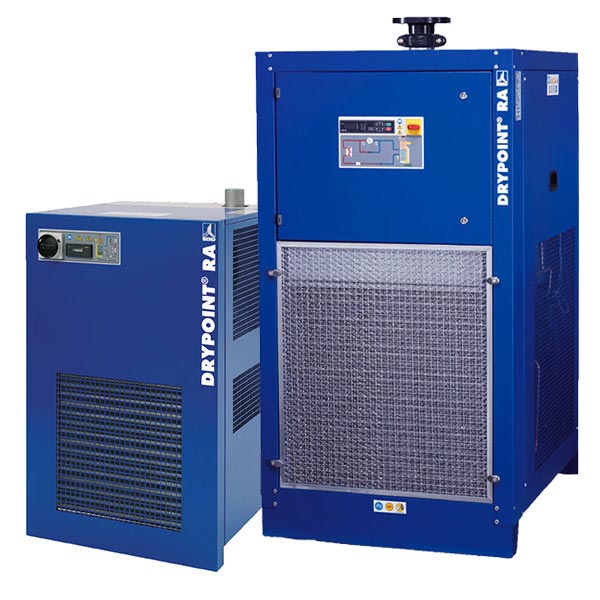 Moisture in the form of condensate in compressed air systems creates a permanent danger for operation processes. Beko's DRYPOINT® RA and DRYPOINT® X compressed air dryers provide you with considerably increased process safety and, therefore, significant advantages. This means that, given their large energy-saving potential, you can also protect your financial resources and therefore utilize them more efficiently for your core business. An essential criterion for selecting a compressed air dryer is the desired degree of drying, the air volume flow rate, and the required air quality class.
Because the humidity of the ambient air is contained in the intake air, condensate always accumulates during the compression process in the air compressor. The contamination in the ambient air, such as dust and dirt particles or aerosols, also accumulates in the condensate in a highly concentrated form. Condensate continues to accumulate yet again during subsequent compressed air treatment processes like filtration and drying. Their condensate technology enables this polluted and environmentally harmful waste product to be discharged, treated, and disposed of properly as condensate must not be introduced into the sewer system.
The precise measurement of humidity, hydrocarbons, flow, temperature, and pressure provides the foundation for various analyses, documentation, and decisions related to compressed air systems. Potential overload (e.g., excessive air velocity) or malfunctions can be detected early, quickly, and reliably, which allows for the most precise and economic optimization of all plant components. The use of superior-quality, industrial-grade measurement equipment eliminates all the guesswork.
Contact Us
Northwest Pump offers a variety of products from Beko Technologies. Please reach out to our sales team for more information or give us a call at 800-452-PUMP.
Need Installation?
If you need help with installation, maintenance, and 24-hour emergency repair service, please reach out to our services team by calling 1-866-577-2755 or submit an inquiry, and we can get an appointment scheduled for you.